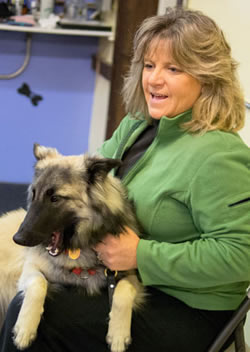 Ali and Dax are cheering on one of
the other dogs in C-WAGS Rally Class
.


Ali Brown
graduated from Ursinus College with a B.S. in Psychology, and earned her M.Ed. in Human Development / Behavioral Science from Lehigh University. Working earlier in her career as a behavior therapist/consultant with mentally challenged children and adults, she made a fulfilling switch to working with dogs in 1998.
In 2001, Ali became one of the first 100 trainers to receive her CPDT certificate (Certified Pet Dog Trainer) from
Certification Council for Professional Dog Trainers
(CCPDT). In May 2008, she became a Certified Dog Behavior Consultant (CDBC) through the
International Association of Animal Behavior Consultants
(IAABC). Ali takes great pride in providing non-force training methods for dogs and their people. Ali was a member of the APDT (Association of Pet Dog Trainers) for 15 years and served on multiple committees as well as serving on the Board of Directors for a 3 year term.
She lives, trains and works with
Bing
, a 10-year-old Belgian Sheepdog whose abilities and antics qualify him for
his own section
of this Website, and Tango, a 'little white fluffy' rescue, who is technically her daughter's dog, but has earned multiple titles with both Ali and Cyan (age 7). Pictured to the right with Ali is Dax, a Belgian Tervuren who joined the family as a puppy in August 2014.
Ali is a great believer in forever learning. She attends seminars, IAABC conferences and Clicker Expo conferences regularly. She attended the first two
Nose Work
seminars on the East Coast. The first was in April 2010: Intro to Nose Work and was presented by Jill-Marie O'Brien and Amy Herot. The second, Intro to Odor, took place in June 2011. Her interest in scent work has evolved into becoming a Scent Detectives judge at all levels. Great Companions runs regular Scent classes, and they are very popular.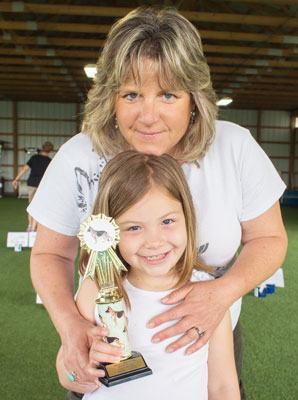 Ali Brown and daughter, Cyan,
after Cyan wins her C-WAGS
Rally level one title.
You can read about one of the more unusual training events Ali was involved in -- a week-long
Chicken Camp
, run by behavior guru, Bob Bailey, and hosted by Terry Ryan in Washington State.
Click here for the whole story.
Giving is as important as receiving, and Ali does just that. She has been traveling the nation, delivering her one-day and two-day seminars on fearful and reactive dogs (
www.ScaredyDog.info
); this seminar has taken her as far as Alaska, California and Florida. Ali leaps at any invitation to share the information she has learned regarding this issue.
Another passion for her is Rally. Ali is a C-WAGS judge at all levels. What makes Rally unique is that it is competitive obedience for anyone and everyone, regardless of age, gender, breed, mix, handicap, or level of competitiveness. It's more about the relationship between the owner and the dog and having fun, than it is about precision. Ali's judging assignments are usually close to home, but they have taken her as far west as Arizona and California.
Agility has long been a source of amazement for Ali. Agility is a real craze among dog-lovers, but what Ali finds most fascinating is how precise body movement and posture must be in order to communicate effectively with your canine partner. She's always known that body language is important; agility makes that fact screamingly clear!
Click here
to see Ali and Bing in action in Agility
.
Part of Ali's evolution as a trainer has been to learn how to work more effectively with kids and dog. Having a kid of her own has enabled her to be even more effective in helping families to effectively juggle childrens' and canines' needs in the home, fostering a peaceful existence. Ali's own daughter has earned four titles on her dog before the age of 7.
Ali currently competes with her dogs in rally, agility, obedience and scent.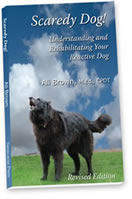 Ali's second book,
FOCUS NOT FEAR, TRAINING INSIGHTS FROM A REACTIVE DOG CLASS
(2008) is
available by clicking here
and through
Dogwise
.
Her first book,
SCAREDY DOG! UNDERSTANDING AND REHABILITATING YOUR REACTIVE DOG
, was published in June 2004 and revised in 2009. The book can be purchased through
Dogwise
,
Amazon
,
Barnes & Noble
and other book sellers nationally, and is
available through this Web site
. It includes training methods that are easy to implement, and comes from her experience with individual training sessions and group classes on the subject. For more information on the book please go to the
ReactiveDog.com website.
Ali's seminar DVD, which is based on her book
Scaredy Dog!
, and her
Reactive Dog Classes DVD
are also available on the
ReactiveDog.com Website.
Contact Ali by phone 610-737-1550 or by
email:
ali@greatcompanions.info
Kailly Muthard
Kailly Muthard started her journey training dogs in 2013 when she adopted a reactive puppy named Ludo. It was because of him that she found Great Companions and the world of clicker training. Because of the need for behavior modification for both Ludo and her late pit bull, Sarah, Kailly gained great knowledge in the areas of reactivity and separation anxiety through experiential learning.
She was approached by Ali to begin an apprenticeship program at Great Companions in 2014 and completed that program in 2017. During that time she also attended and graduated from the Karen Pryor Academy for Training and Behavior, in 2016, as a Dog Trainer Professional. By day, Kailly is a Master's Level Social Worker at a local hospital.
Kailly's goal is to be an ambassador for clicker training and to reach those who would otherwise use traditional training methods. Kailly hopes that others will experience, through her instruction, an improved appreciation and understanding of their pet's learning abilities and, of course, have fun doing it!