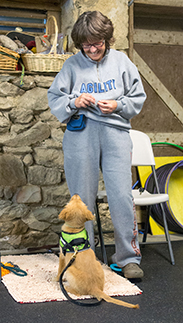 Marty has a new dog in puppy
class on its way to becoming
a champion in agility.
Listed below are a number of articles published by Ali and her
associates that just might help you with situations you run into everyday.
• Puppies! Learn about the most important things to do with your new puppy in the first few months.
• Find out why our Foundations course is the best place for you to start a lifetime of fun with your dog.
• Crate and Rotate: How to teach multiple dogs in a household to do multiple things -- all at the same time.

• Jumping and Pulling: Learn more about a course designed to help with a common canine problem.

• Take Them Everywhere: Taking your dog almost everywhere you go provides training and socialization opportunities and can prevent problems in the future.

• How to tell the difference between a positive reinforcement trainer and a trainer who uses harsh training methods -- even before your first meeting

• A puppy owner's perspective on using a clicker and a no-pull harness to train a puppy.

• Door Manners -- getting your dog's focus before you open the door to take him for a walk

• What to watch out for when a trainer tells you, "We can train any dog!"

• What is a Reactive Dog?

• Is Rally right for me? What is C-WAGS Rally?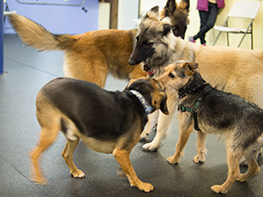 Socialization is an important part of training.
•
Hot weather safety
•
Advice for handling dogs when trick-or-treaters come to call on Halloween
•
It's Halloween, the decorations are sitting on peoples' lawns, and your dog is spooked, What can you do?
• When to use the word, NO!

• Summer sounds -- help for dealing with fireworks and thunderstorms

• Teaching your dog to "leave it".

• Living with Multiple Dogs

• Cue vs. Command -- the linguistics of Positive Reforcement dog training

• Cats? Yes, here are some things you always wanted to know about cats