Foundations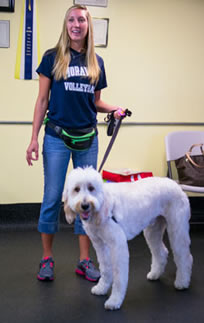 Utley is posing for the camera.
Part of being a responsible dog owner is teaching our dogs the rules of the world we live in. A well-trained dog is joy. At Great Companions we use positive, force-free methods to help you build a positive relationship with your dog. Our goal is to make training fun for both you and your dog. Pain, discomfort, fear and intimidation have no place in dog training. At Great Companions we do not rely on training collars or force to teach. Instead, we use effective, pain free methods that are fun for the dog and human and for the dog. Positive, force free training can help prevent future behavioral problems while building a loving, trusting relationship between you and your dog.
The intro class at Great Companions is called
Foundations
. Dogs over 16 weeks of age can enroll in Foundations. We set a limit of five dogs per class to allow for individual attention to each student/dog team.
The name is apt because it is the foundation upon which all other classes are built. The Foundations class introduces students and their dogs to the principles of clicker training and basic obedience. Your Foundation instructor will help you learn:
how to teach your dog basic behaviors, like sit, down and stand.
how to build handler focus so your dog will pay attention to you instead of distractions.
how to get your to sit nicely for greeting rather than jumping.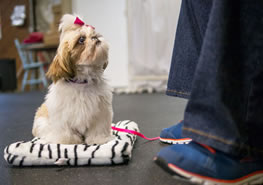 Small dogs learn to sit quietly and
focus on their owner
And, of course, we will start you on the path to having a dog that walks nicely on a leash instead of pulling. Foundations will teach you how to build a working partnership with your dog. You will learn to be your dog's reward.
Rally
Great Companions offers a variety of dog sport classes and Foundations is an essential first step. Many of the Foundations behaviors, like sit, down, stand, stay and come, are exercises in Rally Obedience. More than a higher level obedience course, Rally is a natural next step and will elevate the skills begun in Foundations. It will hone the working partnership, teach your dog to look to you for instructions and help with the continued mastery of everyday skills like loose leash walking and recalls.
Agility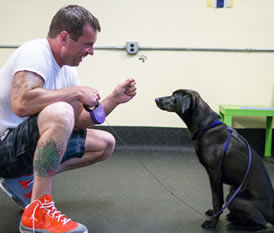 Foundations is the starting point for most
off the other classes at Great Companions.
Agility requires team work. Many dogs find agility to be not just fun, but rewarding as well. Foundations lays the groundwork for success in agility by creating a focused, aware team.
Canine Good Citizen
Canine Good Citizen is another perfect next-step from Foundations for anyone who wants a well behaved pet dog. Many aspects of the CGC subtests are introduced in Foundations. The CGC class builds on these exercises and prepares teams for testing, which is offered at Great Companions twice a year.
Whether the goal is a performance dog or a well behaved pet that is welcome anywhere, Foundations at Great Companions is the starting point and the place where you can begin to be your dog's reward.

Click here for a full course description of the Foundations Class.