When we brought home a puppy for my husband to have for his very own, I made sure that she would bond to him, not to me. All dogs in this house seem to bond to me, because I am a dog trainer. This time, I had to stand back and let them develop a love relationship, which they did.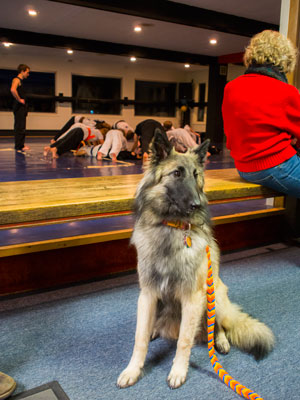 In our daughter's karate class, Dax has learned
to tolerate loud noises and the commotion
of children, adolescents, and adults.
I have to admit that I have been quite impressed by the level of seriousness to which he has taken the training of his puppy. He has done puppy manners, basic obedience, Canine Good Citizen, competition obedience, and now rally, and Dax is only 8 months old. She is a joy. She is bright, very bright, and loving. But she is not always easy.
When we got her at 12 weeks, she was flinchy about most things. I hoped that I could put this down to the big long trip she had to take from the breeder's to our home with two other dogs and a crazy 6 year old. I REALLY hoped that this was not a genetics issue, having been through THAT before. She settled after a week or so. But when, a week or two after that, she started barking at EVERYTHING, I started to panic.
To Pete's credit, he listened to all of my suggestions, AND he started to take Dax everywhere. He took her in the car for mundane errands. He takes her twice a week to our daughter's karate class, so she can hang out in the lobby for an hour and get used to all the noises and flailing children. He took her to the bank, the post office, the hardware store, the tire place, the gas station. He took her to the camera store, the pet food store, to dog shows and Pet Expos, the local community college, and a coffee shop, among other places.
Dax has really changed. She is learning that places are just places…that there isn't much really worth startling at. And she learned this because Pete doesn't just TAKE her places; he TRAINS her every place she goes. He does focus exercises, sits, downs, targeting, stays, leave its, and other tricks. He does door manners when coming and going, he does the "Look at That" exercise when she sees something that he thinks might be difficult for her. He takes his clicker and treat bag stuffed with yummy treats, and every outing is a training opportunity.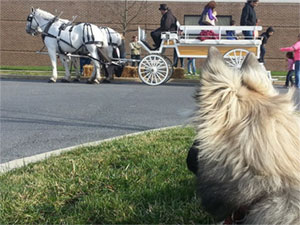 Dax watched horses in amazement as our
daughter went for carriage ride with a friend
during a fall festival.
We live in a region of PA that can be very dog UNfriendly. Dogs are allowed in most Home Depots and Lowes stores in the USA, but not here. Ask just about any store owner around here if you can bring your dog inside and they will look down and mumble something at you about it not being allowed. In my 17 years as a dog trainer, I can see why there are so many unsocialized, unfriendly, fearful and reactive dogs around…it is because they are not taken anywhere because they are not WELCOME anywhere! Until recently, dogs were not even allowed in Bethlehem city parks.
Pete has taken matters into his own hands. He has a highly intelligent breed that requires lots of socialization and training to keep her active and thinking. Without that, she is headed for a very bad place emotionally. He typically doesn't ask if he can bring his dog inside. He brings her in and works with her while multitasking and doing whatever his business is in the place. If the owners or staff tells him he can't have the dog in there, he takes her out quietly and puts her in the car. No biggie. But most of the time, everyone is so stunned at the work he is doing with her that no one says anything.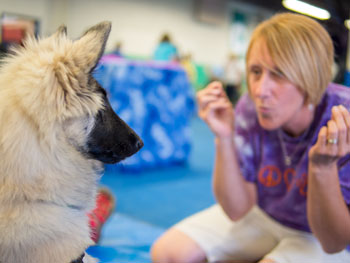 Go to rally and agility trials where you will get
to meet a variety of people with interesting
ways of interacting with your dog.
Of course, there are places you really don't want to take your dog, for safety reasons. And there are some places that have hygiene codes, such as the ICU of a hospital, for example, or inside a restaurant. But if you use your judgment, and you are consistently using your travels as training opportunities, working mostly on door manners, focus and sit stays, you will be leading by example. How many people will be complaining about the perfectly trained dog sitting there so nicely?
Keep a log of the places you go. Try to think of categories of types of places you can take your puppy to socialize him to everything. The options are endless!
Remember: it is easier to ask for forgiveness than to ask for permission. (Note: on 3/16/2015 Pete took Dax into Lowes in Whitehall PA -- this store did permit dogs at that time but has since changed their policy once again exclude dogs.)
Ali
To comment, please email Ali Brown.
Click here
to go to the Great Companions
Training Tips
page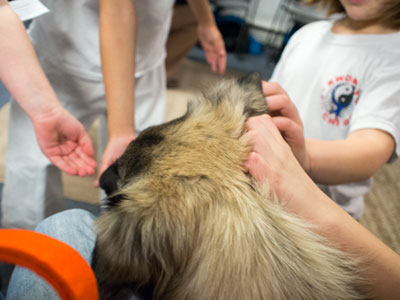 At the end of karate class all the kids want to come up
to pet Dax. Pete is always prepared with treats -- look carefully
in the hand on the far left and to see what Dax is focused on.