FOR BEGINNERS -- CONTROL FOR AGILITY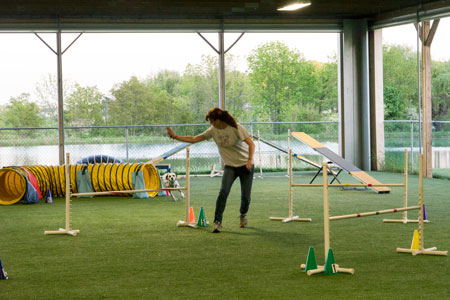 Control for Agility in the
pavilion
at Great Companions
on a warm Spring evening.
Without a doubt, the hardest part of doing agility is keeping your excited and energetic dog in control.You'll never qualify in an agility event if you and your dog don't work together as a team. Even if you're not competing and doing agility just for fun, you need a dog who pays attention instead of deciding to run off and sniff or do some "zoomies."


Whether you're just looking to see what agility is all about, or if you KNOW you want to do agility with your dog, or even if you're just looking to improve your teamwork skills, this class is a MUST! We play lots of games with our dogs to teach them that we humans are SO much fun that it's only WITH us that they get to do the agility obstacles. We work on recalls, wait, focus, motivation, and the value of tugging/play, as well as work on individual pieces of equipment. Once you've learned all of these skills, WATCH OUT agility world!!
BASIC SEQUENCING
Dogs must already be trained on the equipment (completed Control For Agility 1 and 2 or permission of instructor). This course will work more on sequencing skills. What path to take. Best way to handle challenges on course. There will be some time to work on mastering a specific skill (like faster weave poles; better contact performance).


ADVANCED SEQUENCING
This course provides the team the opportunity to break a course down into sequences and work on strategies for best negotiation with the quickest time. This is where it all starts to come together! This class never ends for the team!
PUP AGILITY
In this class your puppy will learn many of the basic skills he needs to be a great agility dog, and a great companion. Some of the skills taught include restrained recalls; playing with toys; positions at side; get it game; interacting with things like hoops, travel board, kids toys; cone work; the stay game; working around jump wings; tunnels are fun; Introduction of the plank; targeting.


WE ALSO OFFER RUN THRUS IN AGILITY ON SOME FRIDAY NIGHTS.