Dogs have an amazing sense of smell
and a natural desire to hunt.
C-WAGS Scent Detectives
is both a game and a sport that provides an opportunity to channel that natural desire in an exciting, interactive way. Dogs of all ages can participate. Scent Detectives is a fun way to help your dog build confidence and burn lots of mental and physical energy.
Intro To Scent Detectives
This class will introduce sport of C-WAGS Scent Detectives, familiarize the dog and owner with the game of hunting for scent, build the drive for the search and help the owner begin to read and interpret the dog's search behaviors. The majority of the class will focus on searching for food/toys in boxes at ground level.
Level 1, Scent Patrol
The goal of level 1 Scent Patrol is to prepare dogs and handler teams for the first level of trialing called Scent Patrol. This class will introduce the target odors for Scent Patrol, allow the dog to learn problem solving kills related to scent work, help owners hone their ability to read their dogs and help dogs learn to communicate hide locations to their owners.
Level 2, Scent Detective
This class is for anyone who has completed Level 1 Scent Patrol. In it we will learn the remaining target odors for C-WAGS Scent Detectives, introduce household and dog show items to the search field and learn to search for multiple hides.
Level 3, Scent Investigator
Coming soon.
Level 4, Scent Super Sleuth
Coming soon.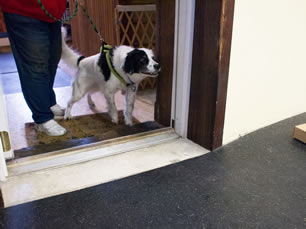 During one of our recent C-WAGS trials one of
teams enters the room where the boxes with
hidden scent swabs are hidden.
FAQ:
What is C-WAGS Scent detectives?
Scent Detectives is an exciting game you can play with your dog as well as a competition sport.

Who can take this class?
Dogs of all shapes, sizes, breeds, ages and energy levels can take this class. It is an activity that can be enjoyed by dogs from Pugs to Great Danes. We also welcome fearful and reactive dogs with prior approval.

What will I need?
You will need to bring your dog and lots of strong smelling, high value treats. Dogs should be on a flat collar or a harness. Your dog will need to be contained while other dogs are searching, either in a crate or car or otherwise separated from other dogs.

What will my dog and I learn?
Your dog will learn to search for first food than odor in a structured environment and then communicate the location to the owner. The owner will learn to read their dog's body language, distinguish when the dog is "in odor" and when their dog is indicating a hide location.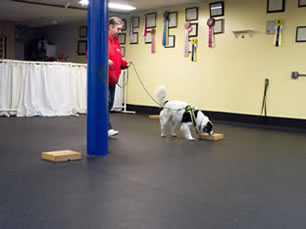 And they found the target box in 42 seconds.
What will my dog and I get out of this class?
Above all else, Scent Detectives is a fun activity for dogs and humans alike. In the heat of summer and the cold of winter it is an alternative to walks as a source of mental and physical activity. It is easy to set up and implement at home and is not a time consuming activity. It is a great way to reduce energy levels for puppies and high energy dogs. Searching is a suitable source of activity for older dogs or dogs with physical challenges. Scent Detectives can build confidence in shy dogs and puppies and the class structure compliments the Great Companions Reactive and Behavioral classes.

What if I want to/don't want to compete?
As with many of our classes at Great Companions, C-WAGS Scent Detectives is a competitive sport. To that end, Great Companions supports our students who desire to exhibit their dogs. Three of the instructors at Great Companions are C-WAGS Scent Detective judges and we regularly hold trials to give our students the chance to compete and title their dogs in this and other fun sports.
But we also recognize that many people are looking for a fun, stimulating activity to do with their dog. C-WAGS Scent Detective classes offer our students an interesting and exciting new way to entertain and play with their dogs
.
Thank you for registering for class at Great Companions. Please review our Liability Waiver below.
Liability Waiver
I understand that attendance in a dog obedience training class is not without risk to myself, members of my family, guests who may attend, or my dog, because some of the dogs to which I (we) will be exposed may be difficult to control and may be the cause of injury and/or damage even when handled with the greatest amount of care.
On acceptance of my application to attend this dog obedience training class, I hereby waive, release, and agree to hold harmless, Ali Brown, Sue Sanders, Kim Pike, Great Companions LLC, volunteers, and/or agents hereinafter referred to as Great Companions for injury and/or damage which I, my family, my guests, or my dog may suffer, including, but not limited to, any injury or damage resulting from the action of any dog(s) in the training session or on the training grounds.
In addition, I expressly assume the risk of such injury or damage while attending any training session, any other function of Great Companions LLC, and/or while on the training grounds or surrounding areas thereto.
I hereby agree to indemnify, compensate, and hold harmless Great Companions LLC and Ali Brown for all claims asserted by the aforementioned, for injury or damage that occurs while attending any training session and/or other function of Great Companions LLC, or while on the training grounds or surrounding areas thereto, as a result of any my actions, the actions of any person(s) accompanying me, and/or the actions of my dog(s), that causes injury and/or damage.
Without prior permission, all handlers must be at least 14 years old.
Owner's Name (please sign):  _________________________________________ Date:  ___ /___ /_______
***Get a friend to register for a class and get a free lesson!***
Refund Policy:
No refunds will be made after the start date of the class for which the fee has been paid. A 25% administration fee will be charged for anyone requesting a refund when they notify Great Companions LLC that they will be unable to attend classes for any reason prior to the start of the session for which they've paid. No pro rates will be given for classes missed.
Winter Bad Weather Policy:
If the forecast is for 2 inches or more of snow, or if two hours before class we are experiencing freezing rain, class is postponed the first time. If that happens again for that same class, that class may be cancelled and not made up. In that case, attempts will be made to cover all materials in an abbreviated class schedule.
Summer Bad Weather Policy:
Classes cannot be cancelled due to thunderstorms because they are too isolated and unpredictable to affect all students. Please call Great Companions LLC any time prior to your scheduled class if you are aware of tornado warnings in your travel area.