Course Description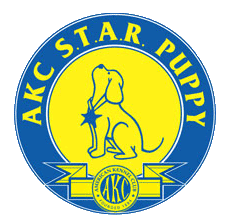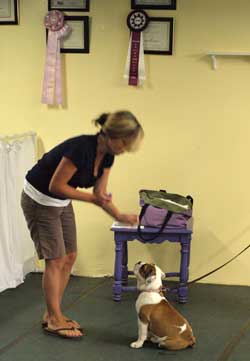 The objectives of this course are many: to allow puppies to socialize with other puppies and humans; to teach owners the importance of socialization of their dogs, particularly at a very young age; to impart owner information on canine care, to help puppy owners learn to effectively address common puppy challenges, and to teach the beginnings of obedience skills. Great Companions participates in the AKC S.T.A.R. Puppy program...learn more.

Age: 9 weeks to 16 weeks at the start date of the class.

Week 1: Overview of positive reinforcement; house training; crate training; name recognition- stuff-a-dog; getting the puppy's focus (click and treat); finger-targeting; lure into sit and down; play.

Week 2: Nipping and biting; putting sit and down on cue; trade; food bowl manners; settle; massage and examining the body; "leave it"; "go to your bed"; mini-recalls; spay and neuter issues; play.

Week 3: Greetings; jumping up; "go to your bed"; recalls; grooming; loose leash walking – The Dance; door manners; low agility jump; play.

Week 4: Greetings (with touching ears and feet); door manners; loose leash walking and handling skills; nutrition; the tunnel; review of skills and behavioral discussion/questions; play.
Learn about the most important things to do with your new puppy in the first few months.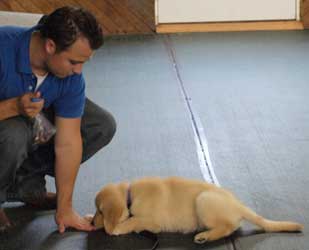 Week 5: Greetings (with handling ears and feet); puppy stays; recalls; loose leash walking and handling skills; discussion and questions; puppy tilt board; play.

Week 6: Vaccine issues; review of stay and other skills; completion of S.T.A.R. Puppy test; questions; graduation and play!


Puppies are recommended to start this class AS SOON AS they have ONE series of vaccinations!!! The earlier they are able to start to socialize, the better...we have students as young as 9 weeks!

You will need proof of vaccinations, a buckle collar, a six-foot leash, preferably leather, a mat for your puppy to lie on and a chew toy to keep him busy during talk-time. a poopie bag, a container of semi-soft treats the size of your pinky fingernail, and a hungry, empty puppy


All pictures were taken at the first night of puppy class on June 24, 2009. Using only non-force positive reinforcement training methods, all these puppies were paying attention to their owners and had their sits and downs all figured out, and the class was just half over.


AKC S.T.A.R. Puppy
Socialization * Training * Activity * Responsibility. AKC S.T.A.R. Puppy is an exciting program designed to get you and your puppy off to a great start. Organized training classes teach you how best to communicate with your puppy, provide an opportunity for your puppy to socialize with other people and puppies, while learning practical skills like leash walking and come when called. When you complete your basic puppy training class (taught by an AKC approved CGC evaluator), your puppy will be eligible for the AKC S.T.A.R. Puppy distinction, and have a natural lead in to the AKC Canine Good Citizen program. Click here to go to the official AKC S.T.A.R. web page.